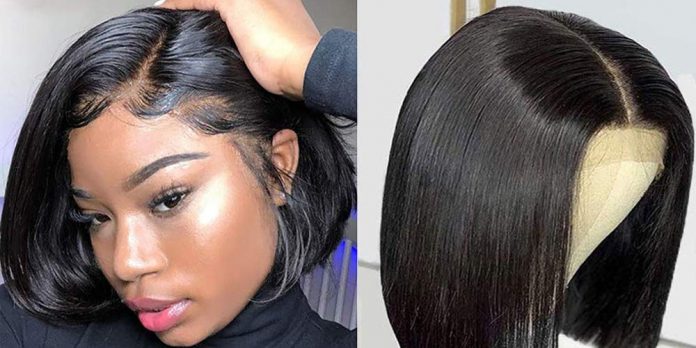 Human hair wigs are the best in the market and are more expensive than any other wigs. One primary reason for this is that they are made from real hair, which is gotten from countries such as China and Indonesia. Being actual human hair, you can wash the wig and style it accordingly. They come in different styles and lengths like curly, wavy, straight, or bob wigs. They enhance beauty and confidence by being versatile and also help rejuvenate your natural hair. In this post, we dive into the various kinds of human hair wigs.
Types of Human Hair Wigs in the Market
Most people cannot tell if one is wearing a human hair wig since it's customized to fit their hairline. They can be styled in several ways depending on the wig type. They also vary in prices as some have more benefits.
1. Lace Front Wigs
Going by its name, the wig comes with a sheer lace attached to the front. It mimics your natural hairline; hence the wig looks real. The lace is usually light making it lie flat on your scalp. The lace comes in a particular color; however, it can be customized to match your skin and blend in perfectly. It gives you a fuller hairline, especially if it's thinning or you've lost it from conditions like alopecia. The lace has tiny holes where the hair is sewn into and secured firmly. Lace front wigs are ideal; however, you can only style them by holding them at the back of your head or halfway up since the lace is only on the front part.
2. Full Lace Wigs
These types have lace throughout the entire head. The lace is meant to stretch and accommodate different head sizes and allow for your natural hair breathing and growth. The main advantage of full lace wigs is that they can be styled in any way. The lace makes it possible to hold the hair up in a high bun, ponytail, at the back, or even part it at any point.
3. U-Part Wigs
The wigs are extensions that you attach to your hair using clips to look like your natural hair. They are hardly noticeable when their texture matches that of your hair. U part wigs are known to add instant hair volume to the wearer and can be style in whichever way by adding curls, waves, straightening it, or even dying.
4. Half Wigs
Half wigs only cover half your head. The bottom part of your scalp is mostly covered while the top part of the hairline remains exposed. Your hairline must be neat to blend in with the half wig and styled to cover its starting point. They are ideal for people who know very little or nothing at all about laying the lace on a frontal wig.
Conclusion
The market has numerous wigs that fit everyone's style and taste. Human hair wigs are the most natural-looking kind and allow for styling based on the type plus your preference. Knowing the different human hair wigs makes your selection process easy and helps you pick the best fit.