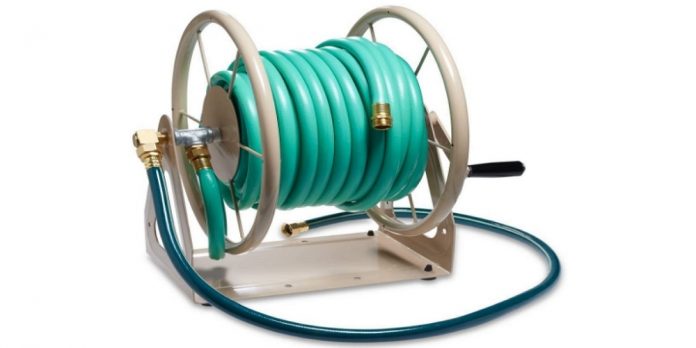 The garden hose reel makes the process of storing your hose convenient. The High-Quality garden hose reel works by winding up the hose and keeping it protected from harsh elements, such as UV rays and rodents. With so many brands and makes of retractable hose reel on the market, buying the best can be a bit challenging. Moreover, these reels are made of different materials, such as metal, plastic, and fiberglass. The retractable garden is designed for both large and medium-sized gardens. When buying one, you should consider certain qualities or features to ensure you get the right one.
Portable or Mounted
There are different types of retractable hose reels: mounted or portable. The portable or stand-alone hose reel allows you to move it around the garden as you water your plants and flowers. This type of reel is perfect for large gardens or if the hose is shorter and cannot get to all parts of your garden. The wall-mount reel can be attached to the wall of your garage or house permanently. This means you do not have to keep moving it whenever you need to use it. Since it is wall-mount, it is easy to use.
Rewinding Speed
There is a need to consider how quickly the hose is pulled back. This depends on the rewind system. You can have a fast or slow rewind mechanism. Retracting hose reels with a spring system have fast rewind systems. Make sure you choose the reel with the right rewinding speed.
Child Lock
This is an important safety feature you should look for in a retractable hose reel. The integrated lock helps keep children away from drawing the reel or pulling the hose from its housing. With this feature, your child can only touch the reel when required.
Lockable
This is another important feature to look for in a retractable garden hose reel. If your hose reel is in an area where you cannot guarantee its security, then you should get a lock. As you know, retractable garden hose reels are quite expensive. Thus, you do not want to lose yours. Make sure you get a lockable reel for extra security.
Hose Stopper
The stopper is useful for retracting the hose reel. This means when watering, you do not have to hold your hose. You will find this feature in most slow rewind systems.
Hose End Clip
It is advisable to choose a model that comes with storage or a clip to hold your hose. Once you remove your spray gun, you can plug the hose at the end to prevent your hose from accumulating dirt.
The truth is that a retractable hose reel is an important tool for homeowners and gardeners. That is because it saves time and makes work easier for you. Remember that these reels are very expensive. Hence, there is a need to choose the best one. The above features can help you choose the right one. Also, you can seek expert help when buying the retractable hose reel to ensure you get one that suits your requirements.